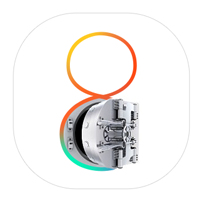 Elcomsoft iOS Forensic Toolkit now officially supports physical acquisition for all 32-bit iOS 8 devices, including iPhone 4S, 5 and 5C, iPad 2 through 4, the original iPad Mini, and iPod Touch 5th gen. In addition, the new release extracts Apple ID and password (if available), enabling real-time acquisition of iCloud backups and extra data via Elcomsoft Phone Breaker.
At this time, physical acquisition is only available for Apple's 32-bit hardware with known or empty passcode or carrying a jailbreak. 64-bit hardware including iPhone 5S, 6 and 6 Plus, as well as iPad Air, iPad Mini with Retina display are not currently supported regardless of jailbreak or lock status. Support for 64-bit devices is currently under development.
68% of Apple customers have already upgraded to iOS 8. Adding forensic support for iOS 8 enables experts extracting information from jailbroken devices, and allows performing physical acquisition of devices carrying no passcode lock (providing that a jailbreak can be installed).
Get more information on Elcomsoft iOS Forensic Toolkit:
https://www.elcomsoft.com/eift.html
Read a press release:
https://www.elcomsoft.com/PR/eift_150127_en.pdf
Read our new blog post "Apple's Take on Government Surveillance: On Its Customers' Side"
http://blog.crackpassword.com/...-customers-side/